EzMate™ 401s
For High-contamination and Temperature-sensitive Applications
The all new EzMate™ 401s use the same platform and software of EzMate™ 401, but have more advanced features added, such as UV lamp, HEPA filters and Active Cooling / Heating modules (ACHM).
For high-contamination clinical labs and RNA experiments, the UV lamp and HEPA filter provide a clean working environment. For temperature-sensitive samples and reagents, the Active Cooling / Heating module (ACHM) prevent them from degrading.
Exceptional Safety
The advanced design of the EzMate™ 401s delivers improved process safety, giving you peace of mind.
The standard UV and HEPA modules ensure effective worktable decontamination and provide positive clean air pressure throughout PCR setup. The UV safety shield provides protection to human eyes from UV light.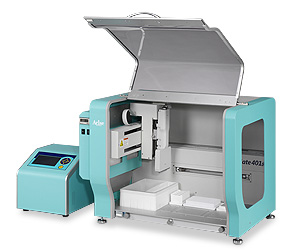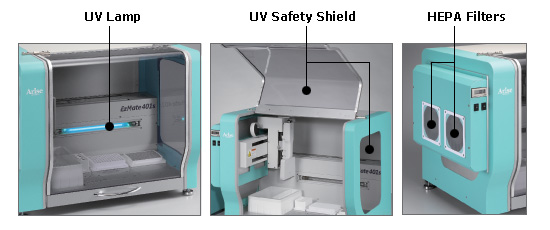 To heat or to cool, it's up to you
With optional Active Cooling / Heating Module (ACHM), you can keep your precious samples and reagents cool and fresh during the experiment setup. You can also heat up your experiment mixture to speed up the reaction. Interchangeable cooling / heating adapter allows you to adopt different types of labware.
The Active Cooling / Heating Module (ACHM) includes the Active Cooling / Heating Control Box, which provides the user an interface, a power supply, and the Active Cooling / Heating Adapters.
Active Cooling / Heating Module (ACHM)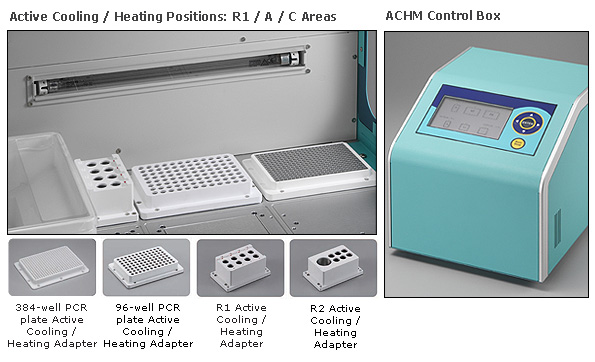 Technical Specification
Worktable Capacity
SBS Format Area
2 ~ 3
Tip Rack Area
1 ~ 2
Reagent Area
2
Function
Liquid (Sample / Reagent) Transfer (LT)
V
Multiple Dispense (MD)
V
Serial Dilution (SD)
V
Hold (Pause)
V
Mixing (MIX)
V
Loop
V
UV Lamp
Irradiation period per run
15 min
Irradiation capacity
> 40 μW/cm2
Wavelength
254 nm (UV-C)
HEPA System
Filter
3M® Air-Mate™ HEPA Filter x 2
Volume flow
> 200 L/min
Active Cooling / Heating Module (ACHM)
Setting Range
4 ~ 70°C
Max. Heating Rate
5°C /min at RT=25°C
Max. Cooling Rate
2°C /min at RT=25°C
Available Position
R1 / A / C Areas
Automated Pipetting Module
Interchangeable 1 / 8-channel, Maximun volume 50μl / 200μl
Connection
RS-232, USB 3.0 / 2.0
Power Supply
100~240V, 50 / 60 Hz, 100W
Size (W x D x H)
660 x 450 x 490 mm
Weight (N.W.)
31 kg
ACHM Control Box (W x D x H)
240 x 300 x 230 mm
ACHM Control Box Weight (N.W.)
2 kg