3500 Genetic Analyzer for Human Identification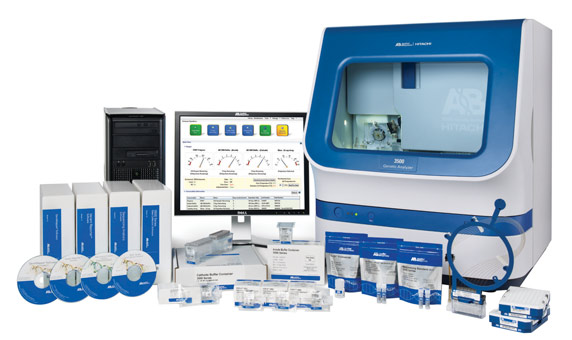 3500 Genetic Analyzer for Human Identification
The 8-capillary 3500 Genetic Analyzer sets the standard in capillary electrophoresis. The 3500-series instruments are the first genetic analyzers designed with a specific feature set and workflow for the Human Identification application.
The complete product combines the instrument with Applied Biosystems™ reagents, consumables and software, as well as industry leading support, to provide an integrated HID system solution that significantly improves ease-of-use and application efficiencies.
Learn more >> 3500 Genetic Analyzer for Human Identification
• Increased Consistency – Reduced signal variation with factory standardization and optional in-lane normalization
• Real-Time Data Quality Assessment – On instrument data evaluation features provide rapid identification and re-injection of samples requiring additional processing
• Improved Thermal Control – Smaller oven design and improved door seal for more consistent data migration
• HID Specific Workflow – Pre-configured for Applied Biosystems™ amplification kits to simplify run setup and software navigation
• Effortless Consumable Installation – Convenient one-time use consumable packaging
• Consumable Tracking with RFID Technology – On-instrument, real-time monitoring of consumable consumption and expiration
• Enhanced Throughput – Faster data generation with 8 or 24 capillary arrays and shorter run times
• Improved Polymer Pump Design – Reduced waste and fewer bubbles for better data quality
• Simplified Instrument Installation & Operation – New solid-state laser eliminates need for high voltage wiring and external venting
• Streamlined Instrument Maintenance – HID specific performance check and maintenance scheduling tools
• Data Chain of Custody – Controlled access and tracking through Security, Audit and eSig features
For more information, please contact your local Sales Representative.
For Research Use Only. Not for use in diagnostics procedures.
"Introduction"
The 3500 Series Genetic Analyzers are the latest advancements in the Applied Biosystems® industry-leading product line of capillary electrophoresis (CE) systems, recognized for the highest levels of data quality and reliability. The versatile throughput system (48–1200 samples per day) supports a wide variety of applications using its DNA sequencingand fragment-sizing capabilities and, unlike its predecessors, has been designed with a specific feature set and workflow for Human Identification (HID) applications.