Ion Reporter Software
Simplify your bioinformatics path to discovery
Ion Reporter™ solutions help remove the barriers of NGS data analysis, enabling you to focus on finding the biological meaning of your data.
Ion Reporter™ Software provides an optimized suite of simple data analysis tools that streamline Ion S5™, Ion S5™ XL, Ion PGM™, and Ion Proton™ systems data analysis, so you can focus on finding the biological meaning of your data, and less on configuring and setting up software.
Easy data analysis across a variety of research applications
Push-button data analysis with easy-to-use preconfigured and customizable workflows, providing flexibility for users of any experience level
Easily identify relevant variants with annotations from >20 public databases
Fast results with optimized workflows and user tools
Quickly focus on your variants of interest with simple result filtering. Then save your filter settings for standardized workflows
Optimized workflows help accelerate your time to research results for Ion AmpliSeq™ targeted gene panels so you can go from sample to variants in a single day
Security for your data
Control access with role-based logins, locked workflows, and audit logs to help maintain a traceable and secure environment
Analyze and securely share data in Thermo Fisher Cloud, or analyze and store data on-site with the local Ion Reporter™ Server System
Ion Reporter Software on Thermo Fisher Cloud
The integration of Ion Reporter Software into the Thermo Fisher Cloud platform helps provide a convenient, centralized data analysis and management solution. Securely share your data with collaborators outside of Ion Reporter Software, and easily compare to data across genetic analysis techniques such as Sanger sequencing and TaqMan™ real-time PCR assays, all in one place.
To access Ion Reporter Software on Thermo Fisher Cloud, simply log in to Ion Reporter Software or log in to Thermo Fisher Cloud and select the Ion Reporter app.
Ion Reporter Data Analysis Workflow
Ion Reporter™ Software offers preconfigured and customizable workflows optimized for a variety of applications to simplify data analysis and help deliver optimal results.
Single or Paired Sample Analysis

Identify differences between a single sample and a reference genome, or explore differences between variants in sample pairs.

Tumor-Normal Research Comparison Analysis

Identify somatic mutations using advanced statistical approaches.

Inherited Disease Research Trio Analysis

Explore variants within a pedigree.

Copy Number Variation Analysis

Identify copy number variations (CNV) automatically in Ion AmpliSeq™ workflows.
Learn more ›

Aneuploidy Analysis

Detect aneuploidies and large chromosome abnormalities from single whole-genome samples with low coverage.
Learn more ›

Annotate only (no analysis)

Upload an existing VCF file and quickly identify biologically relevant variants using annotations from >20 public databases.

Gene Fusion Analysis

Detect and annotate known and novel gene fusions for the Ion AmpliSeq™ RNA Lung Fusion Panel and custom designs.
Learn more ›

16S Metagenomics Analysis

Determine the microbial diversity in one or more 16S samples using reference content from MicroSEQ™ DB and GreenGenes.
Learn more ›
Get started today for free
With preloaded demo research datasets for human exome, 16S metagenomics, and more, it's simple to try Ion Reporter Software for yourself. Simply use your website account username and password to access Ion Reporter Software, now hosted in the Thermo Fisher Cloud platform.
---
Ion Reporter Server System
The Ion Reporter™ Server System combines the ease of use of Ion Reporter Software with the control and access of a powerful computer server in your own building.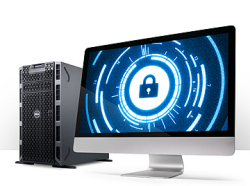 Maintain a secure environment with controlled, local access on a server designed to the same robust data security standards as described in the HIPAA rules, standards, and implementation guides
Control software versions and update on your timeline
Accelerate your clinical research with fast upload and analysis times
Access the same software and workflows as offered in the cloud version
View Ion Reporter Server flyer ›
Archive data with 20 TB of usable storage
| | |
| --- | --- |
| Ion chip | Storage capacity (# runs) |
| Ion 314™ Chip | 20,000 |
| Ion 316™ Chip | 10,000 |
| Ion 318™ Chip | 4,000 |
| Ion 520™ Chip | 2,000 |
| Ion 530™ Chip | 1,000 |
| Ion 540™ Chip | 444 |
| Ion PI™ Chip | 400 |
Number of Ion PGM, Ion S5, Ion S5 XL, and Ion Proton Sequencer runs that can be stored on the Ion Reporter Server. Assumes file footprint sizes of 1 GB (Ion 314 Chip), 2 GB (Ion 316 Chip), 5 GB (Ion 318 Chip), 10 GB (Ion 520 Chip), 20 GB (Ion 530 Chip), 45 GB (Ion 540 Chip), and 50 GB (Ion PI Chip).
Find your biological meaning fast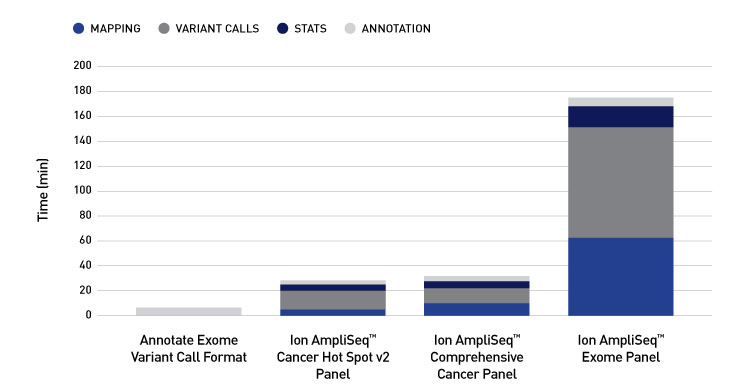 Examples of analysis run times on the Ion Reporter Server for annotating an exome-size VCF (variant call format) file, to running a complete analysis on various sized Ion AmpliSeq™ panels. Mapping: the alignment of the raw reads back to a reference genome; variant calls: the identification of variants when compared to a reference genome; stats: the generation of mapping, coverage, and QC stats; annotation: the notation of identified variants using a rich set of public sources. Analysis run times represent tens of variants for the Ion AmpliSeq™ Cancer Hotspot Panel v2, thousands of variants for the Ion AmpliSeq™ Comprehensive Cancer Panel, and tens of thousands of variants for the Ion AmpliSeq™ Exome Panel.
Partek Flow software on the Ion Reporter Server
In addition to the Ion Reporter Software, the Ion Reporter Server System can also host third-party Partek™ Flow™ software for RNA-Seq data analysis. Hosted side by side with the Ion Reporter software, Partek Flow software enables simple RNA-Seq data analysis with preconfigured, Ion Torrent™-verified whole-transcriptome and small-RNA data analysis pipeline optimized for Ion Proton sequencing data.
Learn more about Partek Flow software and transcriptome sequencing ›
Additional resources
For product updates, training, FAQs, and other resources for Ion Reporter Server and Software, visit the Ion Community Ion Reporter Software Space. You can also get your questions answered by posting them in the community or browsing discussions posted by other users.
Visit Ion Academy to get best practices, tips, and tricks for using Ion Reporter Software for NGS data analysis.
Visit our Behind the Bench blog to access blog posts about NGS bioinformatics. Example posts about data analysis with Ion Reporter Software: