Ion AmpliSeq NGS Panels for Targeted Sequencing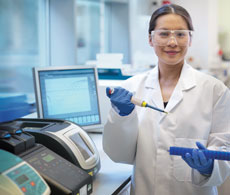 Comprehensive gene coverage with the least amount of DNA
Ion AmpliSeq™ technology delivers simple and fast library construction for affordable targeted sequencing of specific genes or genomic regions. Based on ultrahigh-multiplex PCR, Ion AmpliSeq technology requires as little as 1 ng of input DNA to target sets of genes, making sequencing of FFPE samples routine on Ion PGM™ or Ion S5™ systems.
Alternative targeted sequencing and enrichment methods are lengthy and complex, and they require large amounts of DNA, making them impractical for sequencing DNA from the formalin-fixed, paraffin-embedded (FFPE) tissues that are commonly used in translational and clinical research. Using as little as 1 ng of FFPE DNA and one pool of thousands of primer pairs, variants can be identified in a single day using the Ion AmpliSeq custom workflow. By contrast, the same project using alternative workflows can require up to 100 times as much DNA, 8 times the pools, and twice the time.
Watch how it works ›
Scalability
Up to 24,000 targets per tube
One to hundreds of genes
Up to 384 barcodes for multiplexing
Choose from a wide variety of Ion AmpliSeq targeted sequencing panels to transform your research:
The convenient predesigned Ion AmpliSeq™ ready-to-use panels allow researchers to focus on data generation and analysis, not on the labor-intensive primer design and target selection steps.
Choose from over 20,000 genes to survey gene expression fold changes starting with as little as 500 pg of unfixed RNA or 5 ng of FFPE RNA.
For maximum flexibility, simply select a subset of targets and enter your specific genomic content online using the Ion AmpliSeq™ Designer tool, and we will design and create customized Ion AmpliSeq panels just for you. Choose from a number of reference genomes or upload your own reference sequence.
The Ion AmpliSeq™ Exome RDY S5 Kit allows for rapid, accurate sequencing of key exonic regions of the genome, going from DNA to variants in just 2 days.
Designed with leading disease researchers, Ion AmpliSeq™ community panels provide the ability to selectively analyze gene content, as well as the possibility to customize any predesigned community panel to meet your specific research needs.
The Ion AmpliSeq™ Transcriptome Human Gene Expression Kit is ideal for traditional gene expression analysis of known transcripts from the RefSeq database.
Ion Torrent targeted sequencing workflow