Microlab NIMBUS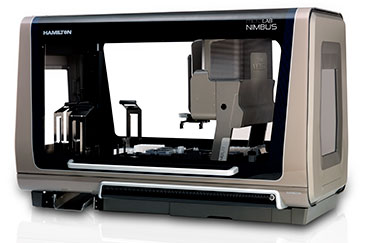 Personal Pipetting Workstation
The Microlab NIMBUS workstation is a compact, multi-channel automated liquid handler that offers speed, flexibility, ease of use
and superior pipetting performance – at a surprisingly affordable price.
More Information
Superior Pipetting Technology
The NIMBUS workstation comes in three highly configurable open or enclosed platforms:
NIMBUS96: 96-channel multi-pipetting head (MPH)
NIMBUS384: 384-channel multi-pipetting head (MPH) *
NIMBUS4: 1 – 4 independent air displacement channels
Integrated options, intuitive software and the backing of Hamilton's renowned service and applications support makes the NIMBUS workstation an indispensable tool for budget- and space-constrained labs. Using proven air displacement pipetting, the NIMBUS system offers the same liquid handling performance as higher-end systems at a fraction of the price.
.

Watch Video
* NIMBUS384 not available in Europe
Hamilton's Microlab INSTINCT software provides an intuitive graphical user interface for simplified instrument control and streamlined method programming, allowing faster results with less training. Hamilton recognizes the critical role that instrument control software plays in overall system usability and end-user satisfaction.
INSTINCT SOFTWARE
INSTINCT software features several tools to enhance the end-user experience:
Labware library: a comprehensive menu of commercially available microplates, deep-well plates, reagent troughs/tubs as well as the complete line of Hamilton CO-RE disposable tips
Favorites tool: enables quick selection of your most commonly used labware
Liquid class tuner: an easy-to-use utility for selecting optimal pipetting parameters and improved liquid handling performance
3-D viewing: an intuitive tool for visualizing deck layouts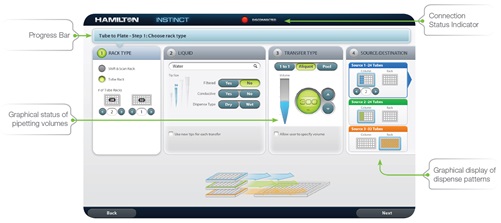 SMART PIPETTING
Combining these preferences with other user-defined input (e.g., pipetting volume), INSTINCT software's built-in intelligence provides:
Automated deck layouts: auto-populates the pipetting deck with carriers, microplates/tubes and tips, making setup of deck layouts a snap
Automated tip tracking: tracks tip usage, location and status of tip racks
Smart plate movements: auto-transports to destination or waste locations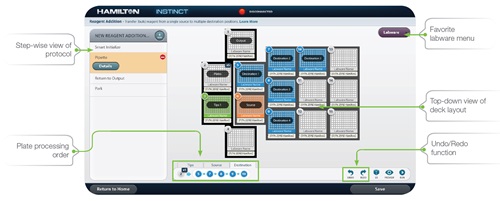 BASIC TASKS
For basic tasks, Instinct features a series of dedicated wizards for commonly performed pipetting routines, each guiding you to final method creation step-by-step: serial dilutions, reagent additions, plate replications, tube to plate, PCR setup, SPE, and many more.
ADVANCED PROGRAMMING
For the most sophisticated method, write the backbone of the method in minutes with INSTINCT and finish with the powerful VENUS software. This standard software allows the user great flexibility to create or modify a complex method from scratch ensuring the requirements are never compromised. VENUS software also features a range of utilities for:
Worklist importing/exporting
Error handling and recovery
LIMS adaptation
Database/server controls
Scheduling
Integrated third-party device control
21 CFR Part 11 Regulatory Tools
VENUS software contains the software tools required to use the NIMBUS workstation in compliance with CFR 21 Part 11. The tools provide audit trails, user-group-defined security functionality and file fidelity with the checksum system.
Compressed O-Ring Expansion (CO-RE)
Many of today's applications require precision in tip attachment and positioning. To accomplish this, Hamilton utilizes proprietary Compressed O-Ring Expansion (CORE) technology. CO-RE technology attaches disposable tips using a highly robust lock-and-key style mechanism. This enables a positional precision of + 0.1mm on all axes. The system requires virtually no vertical force for tip attachment or ejection, thus eliminating mechanical stress and minimizing the production of aerosols. Reduced stress also improves overall system reliability and throughput.

Air Displacement Pipetting
NIMBUS utilizes proven air displacement pipetting, similar to high precision handheld electronic pipettors. Benefits of this technology include:
Reduced risk of contamination or sample dilution (no system fluid)
High pipetting accuracy and precision from sub-microlitre to large (>1 mL) volumes
Increased robustness and easier maintenance owing to lack of system liquids, diluters, valves or complicated tubing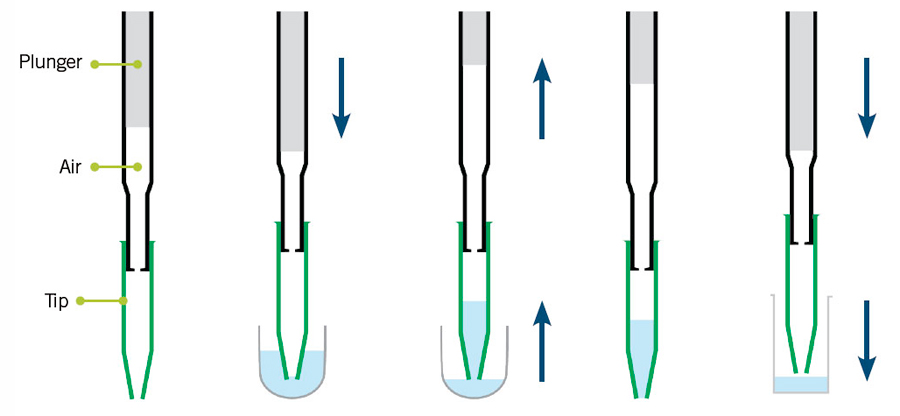 Anti-Droplet Control (ADC)
This technology serves to compensate in real time for pressure changes in the liquid channels caused by high vapor pressure of volatile solvents. Upon activation, ADC prevents inadvertent dripping from the channels, reducing the risk of contaminating the deck. ADC detects and reacts on pressure changes in the channels that are caused by the high vapor pressure of volatile solvents in real time. This feature is available with single pipetting channels.

Monitored Air Displacement (MAD)
By monitoring the air-based pipetting action, NIMBUS can detect clots or empty wells during the aspiration step in real time. It can also be used to pipette highly volatile solvents. With MAD your pipetting robot gives you a feedback on the real-time tracking of the aspiration performance.
Therefore MAD delivers a confirmation of the successful aspiration. Monitored Air Displacement eliminates uncertainty in automated assays by providing reliable, consistent walk-away automation.

Total Aspiration and Dispense Monitoring (TADM)
During crucial sample transfers (e.g. in vitro Diagnostics or DNA Forensics), parameters may be set to monitor, in real time, both the aspiration and dispense steps. TADM verifies with a traceable digital audit trail that a sample has been successfully transferred.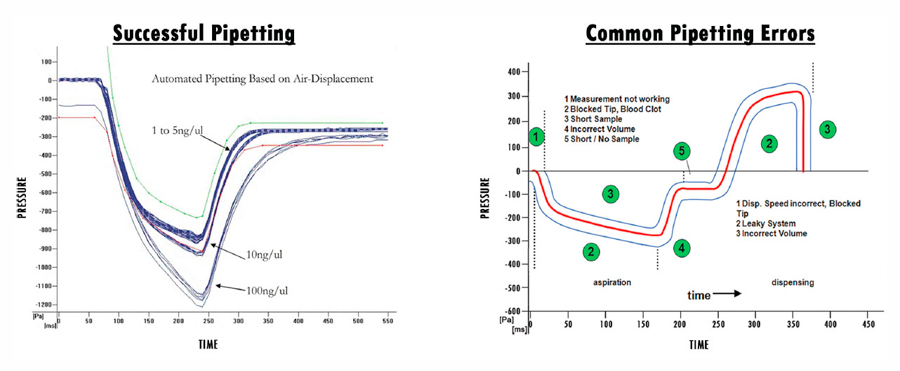 Liquid Level Detection (LLD)
NIMBUS uses LLD technology to determine liquid levels in tubes and plates located on the pipetting deck. There are two modes of LLD: capacitative LLD (c-LLD), used to detect most types of liquids in most types of vessels; and pressure-based LLD (p-LLD), which can detect virtually all fluid types, including foaming liquids and non-conductive organic solvents. cLLD is available (MPH channels A1, B2, G11 & H12); pLLD is available. For even greater confidence in COMPRESSED O-RING EXPANSION (CO-RE) LLD, a dual mode LLD approach may be used.
NIMBUS4 Functional & Performance Specifications
Parameters
Specifications
Open Physical Dimensions (1000 μL)
Length:
Width:
Height:

37.4 in (95 cm)
20.1 in (51.1 cm)
30.3 in max (76.9 cm)
Standard Enclosed Physical Dimensions
Length:
Width:
Height:

41.2 in (104.6 cm)
27.9 in (70.9 cm)
32.7 in max (83.1 cm)
Extended Enclosed Physical Dimensions
Length:
Width:
Height:

53.5 in (135.9 cm)
27.9 in (70.9 cm)
35.0 in max (88.9 cm)
Large Extended Enclosed Physical Dimensions
Length:
Width:
Height:

65.5 in (166.4 cm)
27.9 in (70.9 cm)
35.0 in max (88.9 cm)
Pipetting specifications for disposable tips
Disposable tip size:

10 μL:
10 μL:
10 μL:
50 μL:
50 μL:
50 μL:
300 μL:
300 μL:
300 μL:
1000 μL:
1000 μL:
1000 μL:

Volume

1 μL
5 μL
10 μL
1 μL
5 μL
50 μL
10 μL
50 μL
300 μL
10 μL
100 μL
1000 μL

Trueness
|R| (%)
5.0%
2.5%;
1.5%
5.0%
2.5%
1.5%
3.0%
1.5%
1.0%
7.5%
2.0%
1.0%

Precision
CV (%)
5.0%
2.0%
1.5%
5.0%
2.0%
1.0%
2.0%
1.0%
1.0%
3.5%
1.0%
1.0%

For pipetting of less than 10 μL HAMILTON recommends 10 μL/50 μL volume disposable tips to achieve highest pipetting precision.
Liquid level detection
Independent Channels:
Capacitive liquid level detection (cLLD)
Pressure liquid level detection (pLLD)
Deck Capacity
8-12 positions
Communication type
Ethernet

Labware Gripper Specifications:
Absolute positioning
accuracy X, Y, Z = 0.5 mm
reproducibility X, Y, Z = 0.25
---

NIMBUS384 Functional & Performance Specifications
Parameters
Specifications
Open Physical Dimensions (1000 μL)
Length:
Width:
Height:

37.4 in (95 cm)
20.0 in (50.8 cm)
30.0 in max (76.2 cm)
Extended Enclosed Physical Dimensions
Length:
Width:
Height:

52.75 in (134 cm)
29.5 in (74.9 cm)
34.5 in max (87.6 cm)
Large Extended Enclosed Physical Dimensions
Length:
Width:
Height:

65.5 in (166.4 cm)
29.5 in (74.9 cm)
35.5 in max (87.6)
Pipetting specifications for disposable tips - 384-channel CO-RE head
Disposable tip size:

50 μL:
50 μL:
50 μL:

Volume

0.5 μL
1.0 μL
50.0 μL

Trueness
|R| (%)
1.0%
1.0%
1.0%

Precision
CV (%)
6.0%
4.0%
2.0%

The 384-channel CO-RE head uses
special 50 μL - 384 tips (usable as 96
channel CO-RE head with the 4 to 1 tip
adapters). Stacked tip-racks available to
increase deck capacity (NTR).
Liquid level detection
384-channel CO-RE head:
cLLD - (Channels A5 and P24)
Deck Capacity
11 - 12 positions
Communication type
Ethernet
table table-striped
Absolute positioning
accuracy X, Y, Z = 0.5 mm
reproducibility X, Y, Z = 0.25 mm
---

NIMBUS96 Functional & Performance Specifications
Parameters
Specifications
Open Physical Dimensions (1000 μL)
Length:
Width:
Height:

37.4 in (95 cm)
20.1 in (51.1 cm)
30.6 in max (77.7 cm)
Extended Enclosed Physical Dimensions
Length:
Width:
Height:

52.75 in (134 cm)
29.5 in (74.9 cm)
34.5 in max (87.6 cm)
Large Extended Enclosed Physical Dimensions
Length:
Width:
Height:

65.5 in (166.1 cm)
29.5 in (74.9 cm)
34.5 in max (87.6 cm)
Pipetting specifications for disposable tips - 96-channel CO-RE head
Disposable tip size:

10 μL:
10 μL:
10 μL:
50 μL:
50 μL:
50 μL:
300 μL:
300 μL:
300 μL:
1000 μL:

Volume

1 μL
5 μL
10 μL
1 μL
5 μL
50 μL
10 μL
100 μL
300 μL
1000 μL

Trueness
|R| (%)
5.0%
2.5%;
1.5%
5.0%
2.5%
1.5%
3.0%
1.5%
1.0%
1.0%

Precision
CV (%)
5.0%
2.0%
2.0%
5.0%
2.0%
0.75%
2.0%
2.0%
2.0%
0.75%

Liquid level detection
96-channel CO-RE head:
Capacitive liquid level detection (cLLD)
(Channels A1, B2, G11 and H12)
Deck Capacity
11 or 12 positions
Communication type
Ethernet

Labware Gripper Specifications:
Absolute positioning
accuracy X, Y, Z = 0.5 mm
reproducibility X, Y, Z = 0.25 mm

* The Open NIMBUS is not available in Europe
* NIMBUS384 is not available in Europe
NIMBUS Pedestals & Accessories