RapidHIT ID System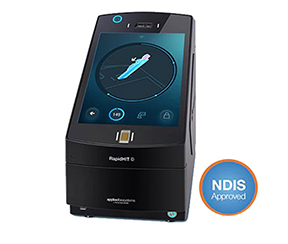 The RapidHIT ID System
The compact, easy-to-use Applied Biosystems RapidHIT ID System generates forensic DNA profiles in virtually any setting in as little as 90 minutes—and no technical expertise is required. Safer communities are within reach.


Sample in, identity out
The compact and easy-to-use Applied Biosystems™ RapidHIT™ ID System is
the ideal rapid DNA platform for generating lab-quality forensic DNA profiles
from reference samples and crime scene samples.
With just one minute of hands-on time, the fully automated RapidHIT ID
System can generate short tandem repeat (STR) DNA profiles in the lab or in
the field. Paired with Applied Biosystems™ RapidLINK™ Software, the system
offers full control of DNA results with powerful sample matching, familial
search, kinship, and staff elimination database applications.
Learn more >> RapidHIT ID System
"Get DNA results in 90 minutes."
RapidLINK Software Centralizes data and provides full control of results.