Ion Torrent™ Ion Chef™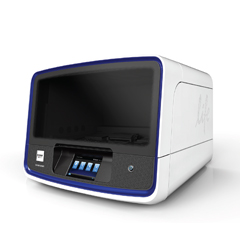 Walk-away convenience with automated workflows
Help save time at the bench, improve your laboratory's productivity, and standardize your results. The Ion Chef™ System does the repetitive lab work
without the need for complex robotics and confusing scripts. Paired with Ion Torrent™ next-generation sequencing platforms (Ion PGM™, Ion PGM™ Dx
system—assay development mode, Ion Proton™, and Ion S5™ Systems), the Ion Chef System automates
Ion AmpliSeq™ library preparation, template generation, and chip loading with push-button simplicity—enabling DNA to data in as little as 45 minutes of hands-on time.
Suitable for any user in the lab interested in microbial metagenomics, gene expression analysis,
exome sequencing, or targeted sequencing, the automated workflows of the Ion Chef System help save time
at the bench, increase lab productivity, and help standardize results. Unleash the power of your
Ion Torrent™ next-generation sequencing platform with Ion Chef System automation
Learn more >> Ion Chef System
"We're very pleased with the run quality, and the time savings are impressive."
Streamline your next-generation sequencing workflow