Abetter LIMS
Abetter LIMS – Laboratory Information and Management System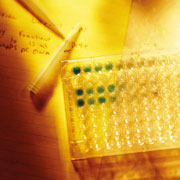 Providing a complete solution for lab information and management Abetter LIMS functions are ranging from data administration, planning and processing to result management, quality assurance and reporting. The functionalities of the Abetter LIMS include:
Sample management
Methods and workflows
Container management
Work planning
Devise and reagent management
Traceability and audit trail
Electronic signatures
User and rights management
Compliance with ISO 17025 and GLP guidelines
A detailed description of the functionalities and possible applications of Abetter LIMS you will find at
>> www.qualitype.de/en/solutions/products/lims/.
For the best adaption to the particular needs of a specialized lab, Abetter LIMS provides specific expert modules:
Abetter LIMS Forensic Edition
The forensic module, as an extension of the functionalities of Abetter LIMS, is perfectly tailored to forensic DNA labs. This
Abetter LIMS Forensic Edition
has been developed in cooperation with forensic scientists and is recently used in various accredited DNA labs and State Offices of Criminal Investigation.
Abetter LIMS Clinical Edition
For best adaption to clinical labs Abetter LIMS Clinical Edition provides a clinical specification. Thereby, the clinical module supports a comprehensive laboratory and patient management including a client database, ICD-10-catalogs as well as examination analyses.